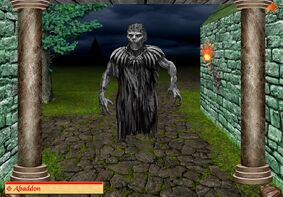 Ghoul-like creature that could appear during the Exorcise the Demon Quest. This is that Demon in fact.
Level: 10
Hp: 200
Xp: 500
Strategy
Edit
The maybe best tactic to kill a ghoul is to come closer. From a distance, ghouls use various spells (like drain experience, damage living) to damage you, but from near they just use melee attacks that just will damage you a little.
Usually drops 1-3 random magic scrolls.
Ad blocker interference detected!
Wikia is a free-to-use site that makes money from advertising. We have a modified experience for viewers using ad blockers

Wikia is not accessible if you've made further modifications. Remove the custom ad blocker rule(s) and the page will load as expected.