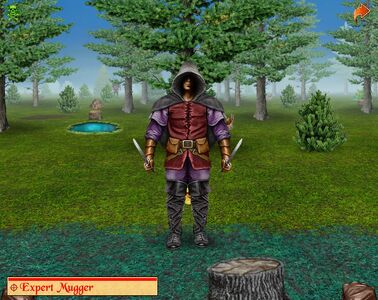 Bandits are humanoid thieves who stick to the roads and forests.
Varieties
Edit
All Bandits attack only with physical contact.
The Quest
Edit
Highwayman
Edit
Bodyguard
Edit
Expert Mugger
Edit
Level: 12
Hp: 210
Xp: 700
Ice & Fire
Edit
Expert Bandit
Edit
Level: 14
Hp: 220
Xp: 1200
Bandit Chief
Edit
Level: 16
Hp: 250
Xp: 2000
Poison attack
Bandits always use close combat, so use ranged weapons or spells to weaken them before they get to you.
Ad blocker interference detected!
Wikia is a free-to-use site that makes money from advertising. We have a modified experience for viewers using ad blockers

Wikia is not accessible if you've made further modifications. Remove the custom ad blocker rule(s) and the page will load as expected.