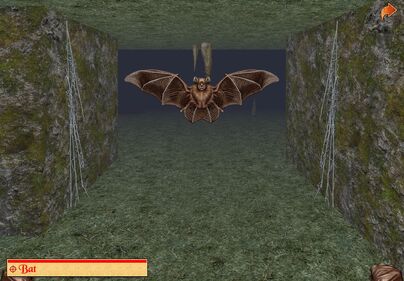 Bats are flying animals that cause direct physical damage.
Varieties
Edit
Level: 1
Hp: 12
Xp: 25
Str:1, Dex:2, End:1, Int:1
Level: 2
Hp: 24
Xp: 30
Str:3, Dex:4, End:3, Int:2
Venom bat
Edit
Level: 3
Hp: 36
Xp: 35
Str:4, Dex:6, End:4, Int:2
Poison bite
In the early stages of the game Burning Hand is a very economic way of dispatching bats
Ad blocker interference detected!
Wikia is a free-to-use site that makes money from advertising. We have a modified experience for viewers using ad blockers

Wikia is not accessible if you've made further modifications. Remove the custom ad blocker rule(s) and the page will load as expected.