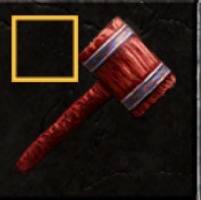 The Redshift Hammer is a Unique Heavy Weapon found in the expansion Islands of Ice and Fire. The Hammer has the ability to find items and coins in wall cracks upon attack in all expansions.
Location
Edit
Redshift Hammer

Type

Heavy Weapon

Damage

48-65

Weight

20.0

Outfit

Swell (100)

Enchantability

Superiorly Enchantable

Condition

25,000

First found in:

Islands of Ice and Fire/HD

Buys for:

cannot be bought

Sells for:

cannot be sold
Ad blocker interference detected!
Wikia is a free-to-use site that makes money from advertising. We have a modified experience for viewers using ad blockers

Wikia is not accessible if you've made further modifications. Remove the custom ad blocker rule(s) and the page will load as expected.