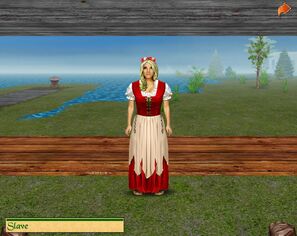 A slave is in a bind and you're the key to her freedom!
Talk to Lydia of Mithria in the Slaver's Camp in Ancestors' Bay - East Shore.
She will promise you a gem, if you steal a key from the Orc Slave Master.
Go east and enter the nearby hut.
Talk to an orc, Karmish the Slave Master.

Tell him "There is a sand fly on your pocket", which will let you steal a Small Key from him if your Persuade skill is 35 or higher.
Escape, Capture and Escape!
Edit
Go back to Lydia and talk to her again.

You will give her the key, she will give you an increase in fame, a kiss and Lydia's Ruby (worth around 1300 gold).

The orcs grab you for this and throw you (30 damage) in the nearby pit to rot.
Fortunately the pit has a secret button, which will teleport you to freedom! (near the fountain)
Ad blocker interference detected!
Wikia is a free-to-use site that makes money from advertising. We have a modified experience for viewers using ad blockers

Wikia is not accessible if you've made further modifications. Remove the custom ad blocker rule(s) and the page will load as expected.