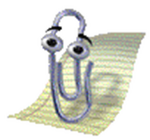 Hi! It looks like you are writing a wiki entry? Let Sir Clippy help you...
Edit
Hail Knave! Below are some guidelines for lending ye gauntlet in assisting on thine wiki.
Editing Zones
Edit
The following sections are needed, where applicable:
Enemies
Quests
Herbs
Features
Shops
Maps and Zones
Edit
Capturing Raw Maps. Please help us!
Edit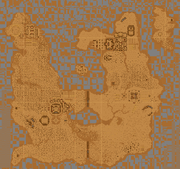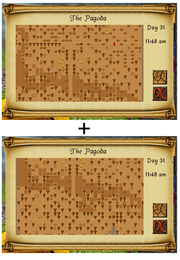 Our first major project is creating a complete map of Freymore. You can help us with very little effort.
All you have to do is:
Be on an iPhone/iPod Touch (sorry to others but we don't want to have to mess around with scaling pixels)
Be in landscape mode (pixels can vary between portrait and landscape for maps)
Fully explore just a single zone, and stand IN the zone, on an edge.
take two overlapping screen captures of the zone in two halves (see example) (you don't need to join them)
To perform a screen capture on an iPhone/iPod Touch, all you have to do is press (not hold) the Power button (top, right) and the Home Button (front, bottom) at the same time. The screen will flash white for a second and the *.png will be in your photos.
Email the two images to the "Resource email address" in the image on the right ----------->
Processing your own Zone images
Edit
If you capture a map of a zone and upload it, it is strongly preferred if it is:
Capture a raw map zone (see above)
Join them and crop them to show just the zone, the zone border and very small amount of the neighboring zones (if applicable)
Name the file the full name of the zone (eg "Village of Matras.png")
In *.png format
Have a transparent background if crop is larger than image
Upload and embed it in the wiki and email it to the "Resource email address" in the image on the right ----------->
To-do list
Edit
This is a list of what the wiki currently needs, but is not limited to:
Rewrites of most articles on the side (to add more information to each)
Shop pools
Enemy drop tables
Expansion details
Template creation
Quest write-ups
Complete coverage of:

The Quest
Ice and Fire
Hero of Lukomorye I
Thor's Hammer
Details of items (including weapons, jewelry, etc.)
Ad blocker interference detected!
Wikia is a free-to-use site that makes money from advertising. We have a modified experience for viewers using ad blockers

Wikia is not accessible if you've made further modifications. Remove the custom ad blocker rule(s) and the page will load as expected.