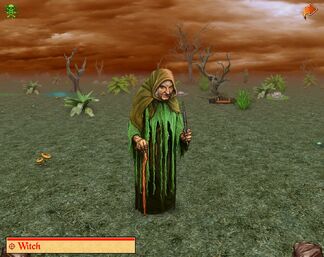 Witches specialize in magical ranged attack. Their arsenal includes Poison Cloud, Magic Missile , Curse , Drain Mana and Cure Wounds .
Varieties
Edit
The Quest Original Game
Edit
Witch Adept
Edit
Level: 10
Hp: 150
Xp: 400
Witch Expert
Edit
Level: 12
Hp: 180
Xp: 800
Witch Queen
Edit
Islands of Ice and Fire
Edit
Fire witches are found around the Northern Fields of Eldfell.
Fire Witch
Edit
Level: 18
Hp: 270
Xp: 3600
Str: 30, Dex: 35, End: 28, Int: 15
Ad blocker interference detected!
Wikia is a free-to-use site that makes money from advertising. We have a modified experience for viewers using ad blockers

Wikia is not accessible if you've made further modifications. Remove the custom ad blocker rule(s) and the page will load as expected.